How to add a standard rate to your organization
What is a standard rate?



A standard rate is a "rate classification". When you add a new employee, instead of choosing "custom hourly rate", you would choose a rate class to be applied to this employee. When that rate class gets a raise, each employee with that setting will receive the raise.

For example, a restaurant hires all new servers at $11.50/hour and assigns them a standard rate of Server1. After their first year, they get a raise to $12.00. When a server is moved up, instead of updating their compensation policy, update their standard rate classification to Server2.

At the beginning of a new year, the restaurant decides to raise all new servers to $12.00 and experienced servers to $12.50. They would update the standard rate on Server1 and Server2 directly, and all servers' compensation policies would be updated at once.

How to set up a new standard rate



1. Select

Payroll in the top menu, and

Payroll Setup under the Payroll heading.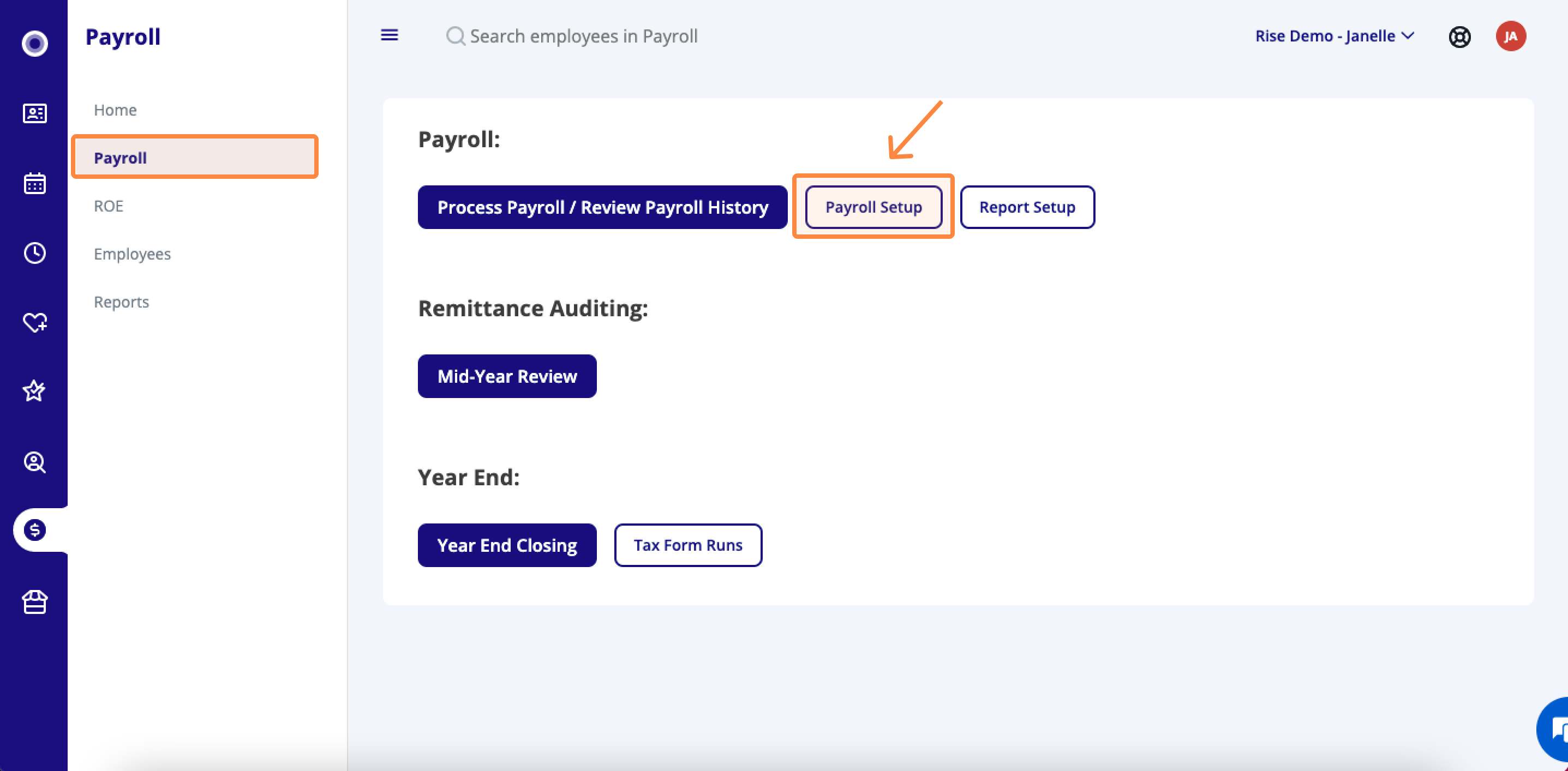 2. Select the tab

Standard Rates and click

Add Standard Rate to create a new one, or

Edit to adjust an existing rate.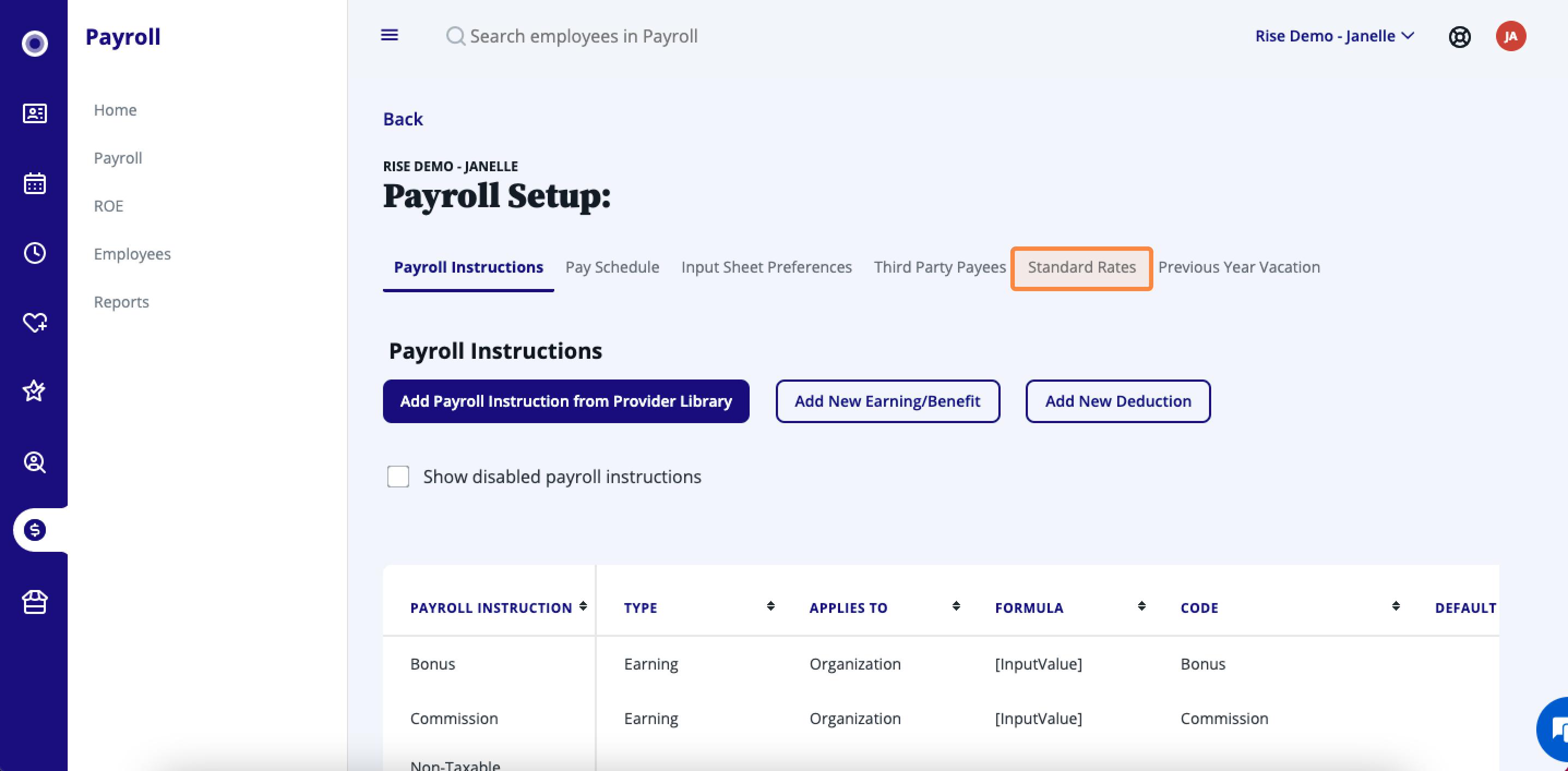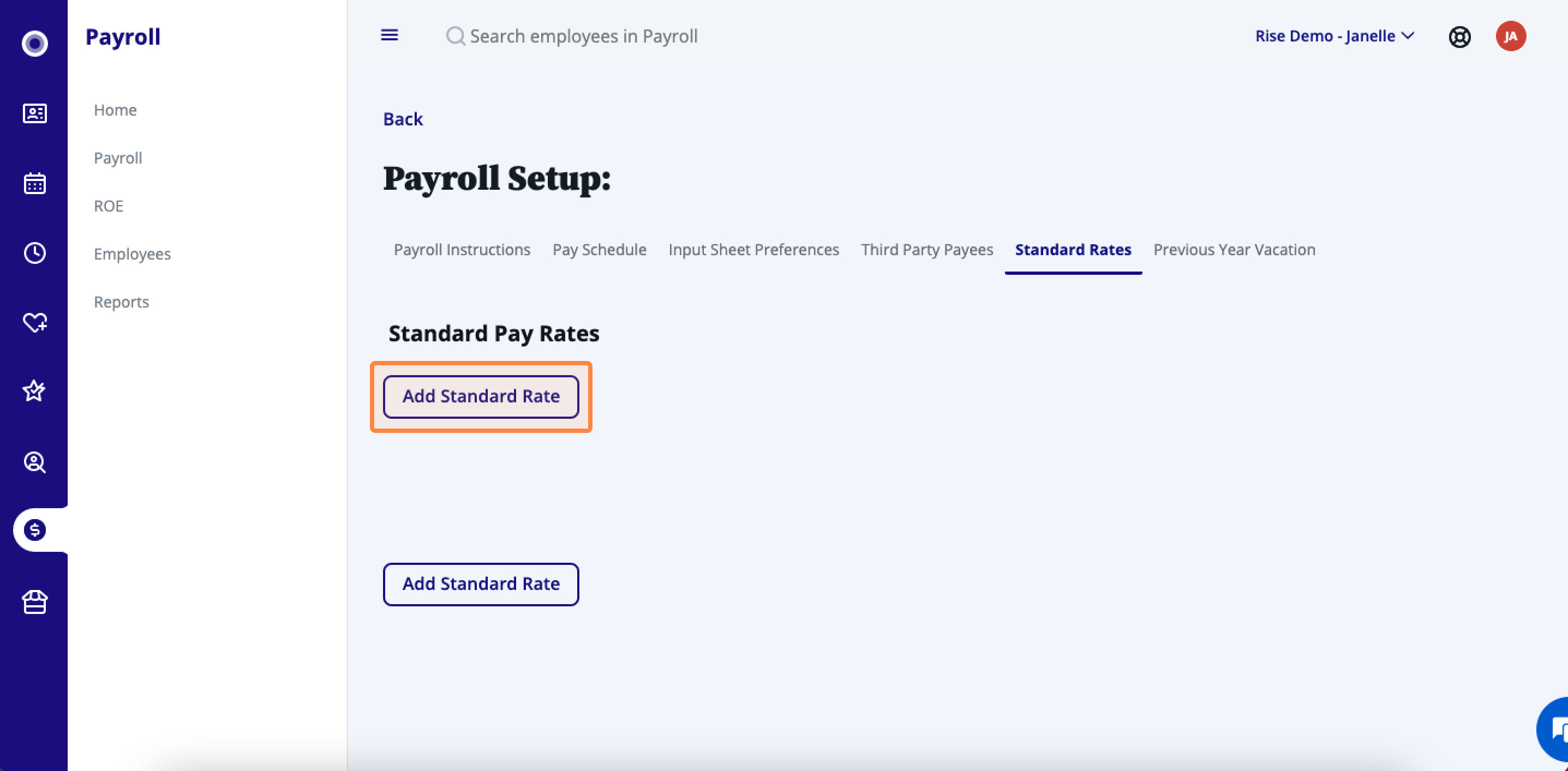 3. Add the basic information for this standard rate:

Code:

This short form version of the description is used as a preface to the name.

Name:

This

long form version of the description is used to explain to whom this rate applies.
4. Click Save.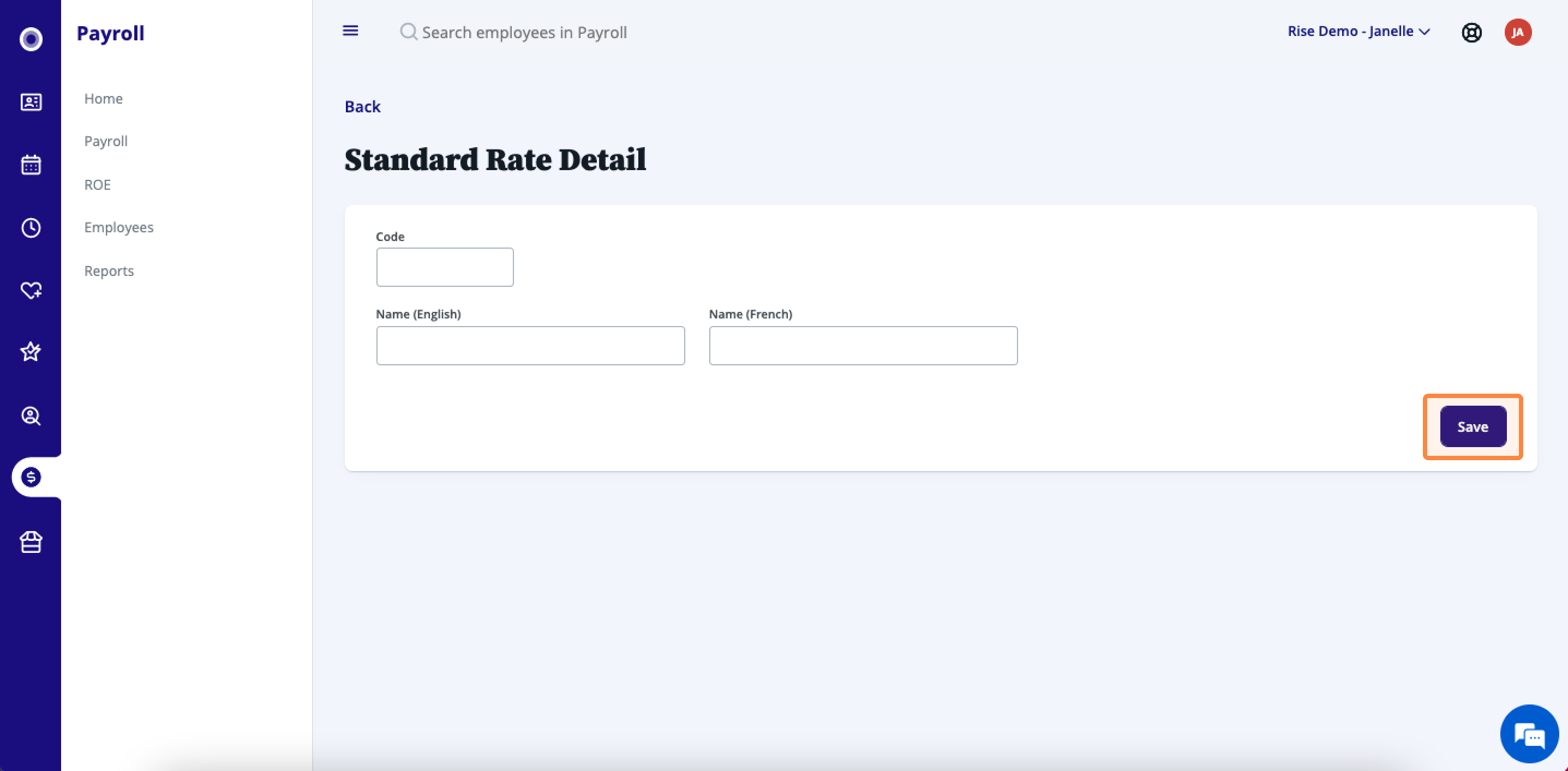 5. Click

Add or Disable Rate.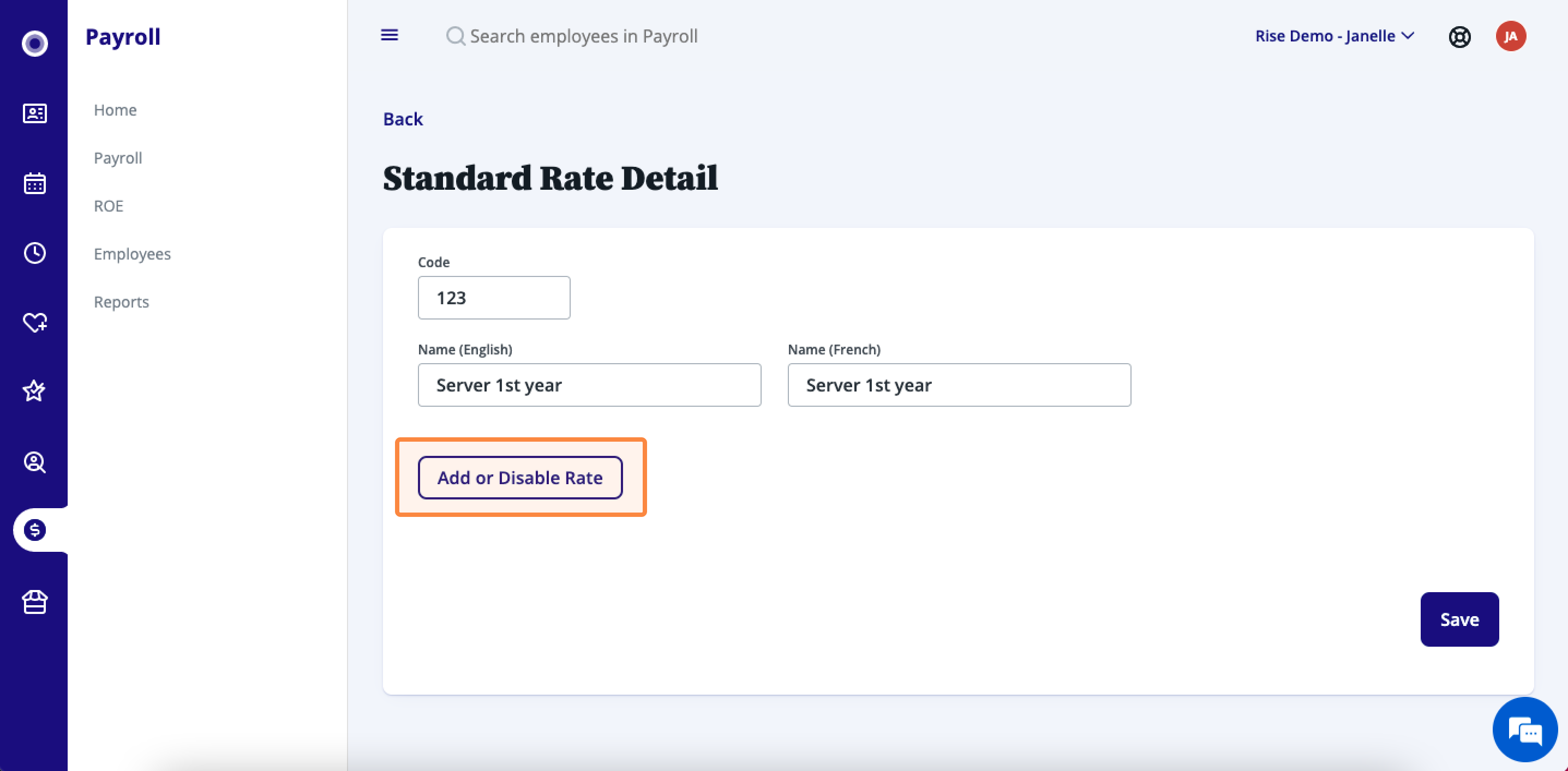 6. Add the rate information:



Rate: This is how much all employee's assigned this standard rate will get paid per hour.
Effective Date:

This specifies when the rate takes effect. Especially useful if you are increasing the rate.



7. Click

Save.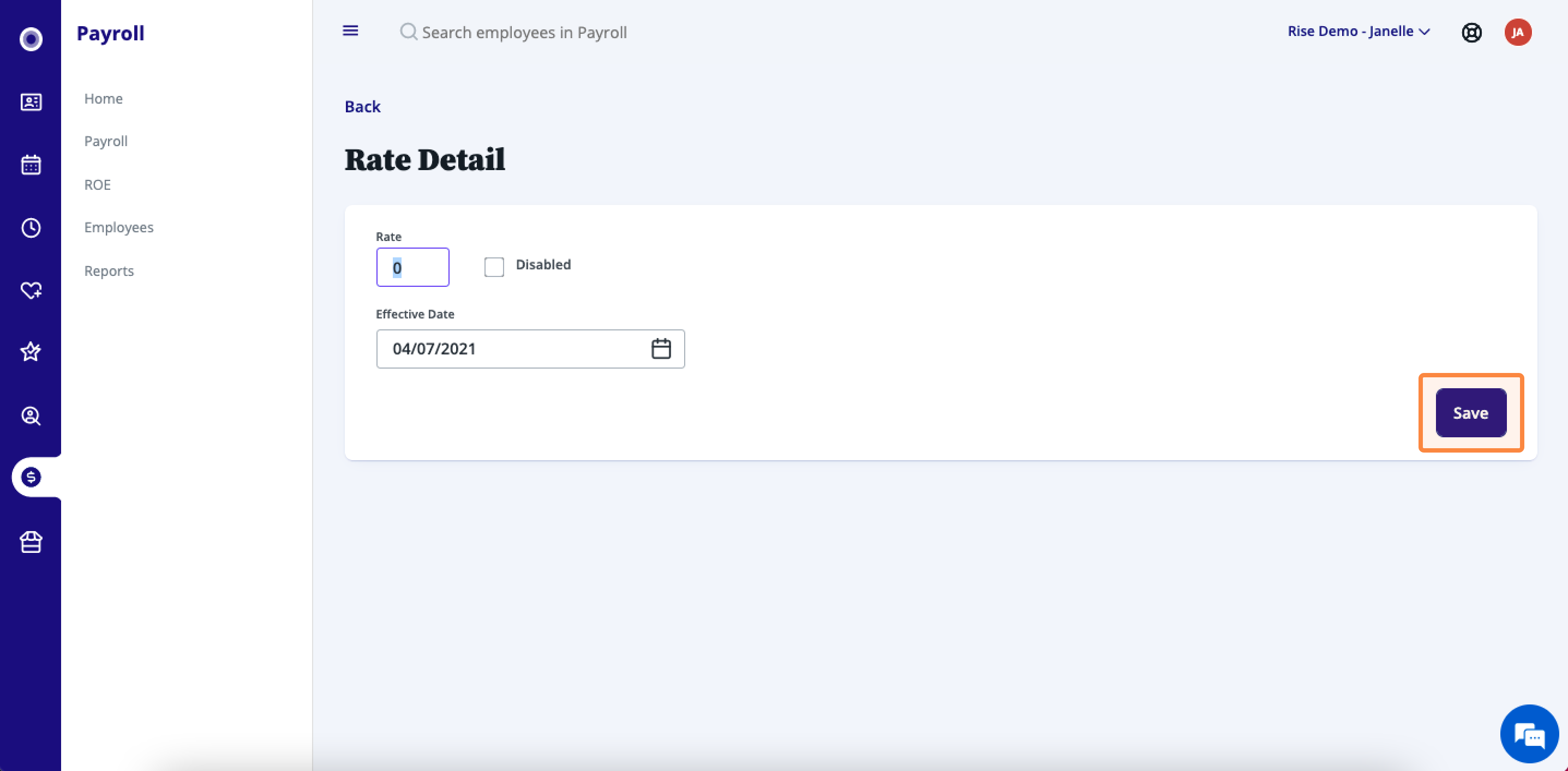 8. You will see the details of the standard rate appear. Click

Save and you are complete! This is now available to be added to employee profiles.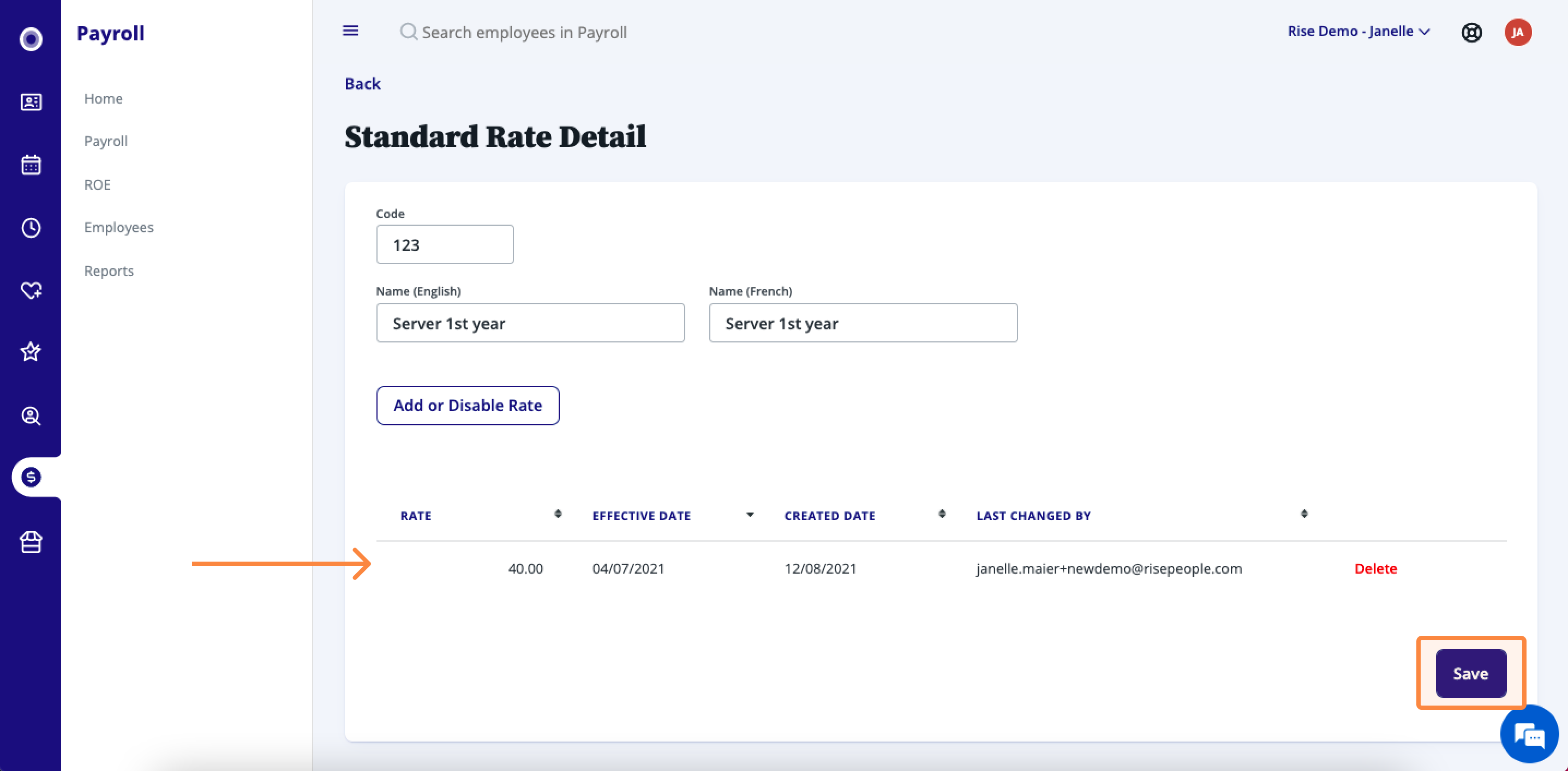 Related Articles

How do I setup or adjust an employee's compensation?

Add a new, or update a current compensation policy If this employee is brand new and has no existing compensation policy, there are just a few steps to complete. Navigate to the employee maintenance page. Click on "Compensation". ...

How to add payroll instructions

Adding a provider level payroll instruction 1. Select "Payroll" from the side menu, and click on "Payroll Setup." 2. Choose the button "Add Payroll Instruction from Provider Library." 3. Select the payroll instruction you need from the list available ...

How to add an employee to Payroll

Adding a new employee to the system Click "Employees" in the left-hand menu. Scroll down to the bottom of the page. Click "Add Employee". You will start on the demographics tab of the Employee Maintenance page. Most of the information is ...

How to create an earning pay code

Three types of earnings There are three types of earning payroll instructions. If you wish to enter a number of hours into the input sheet and have the hours calculate at the hourly or salary rate outlined in the employee's compensation policy, you ...

Retirement Allowance and Severance Pay payroll instructions

Canada Revenue Agency (CRA) and Revenu Québec (RQ) regulations state that severance pay and retiring allowances must use the non-periodic lump sum method to calculate tax. A new payroll instruction, Severance Pay, is added to Rise payroll ...