How to create an ad-hoc pay run
1. In the

Payroll

menu on the left-hand side, click

Payroll

.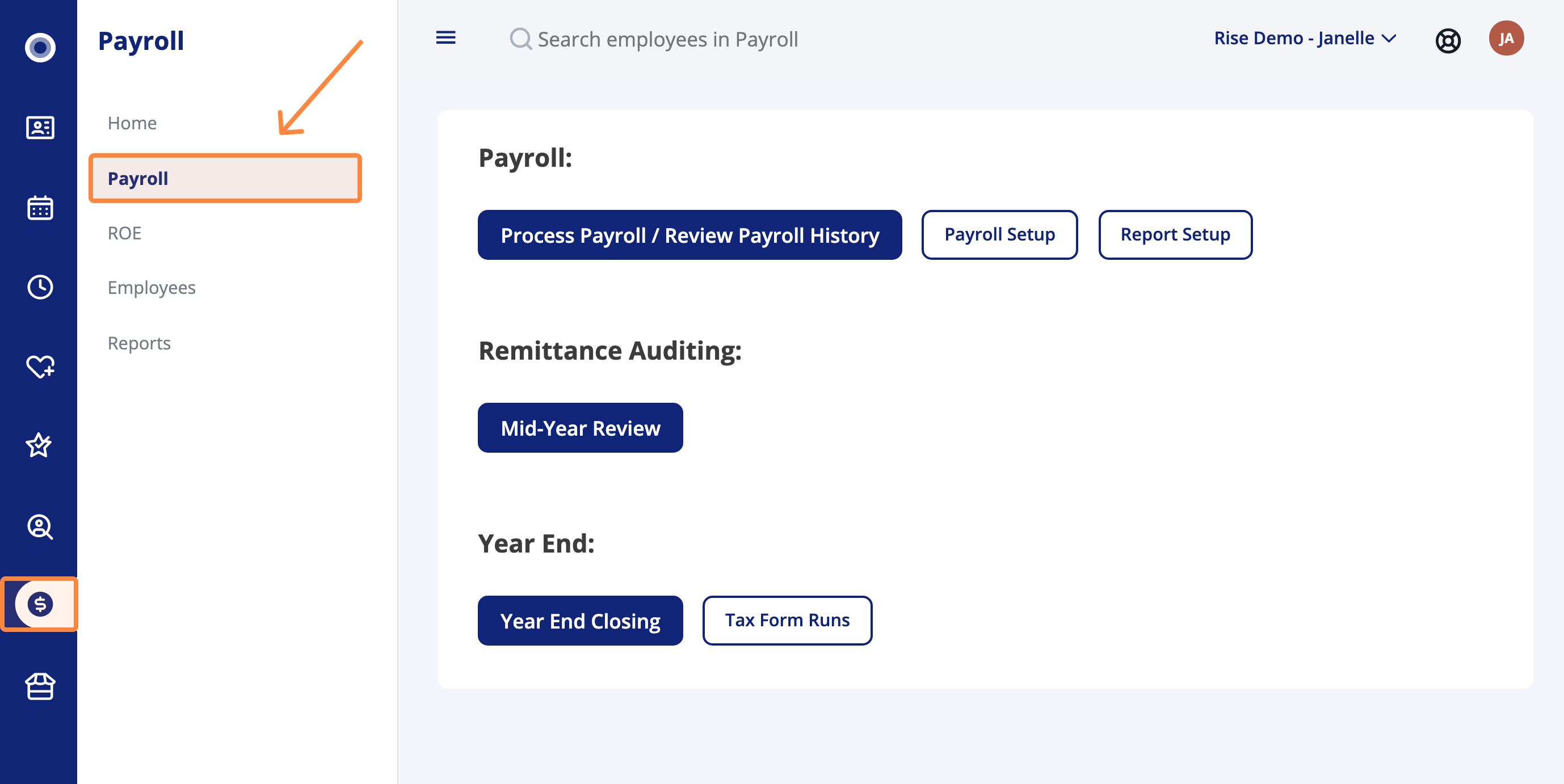 2. Click

Process Payroll / Review Payroll History

.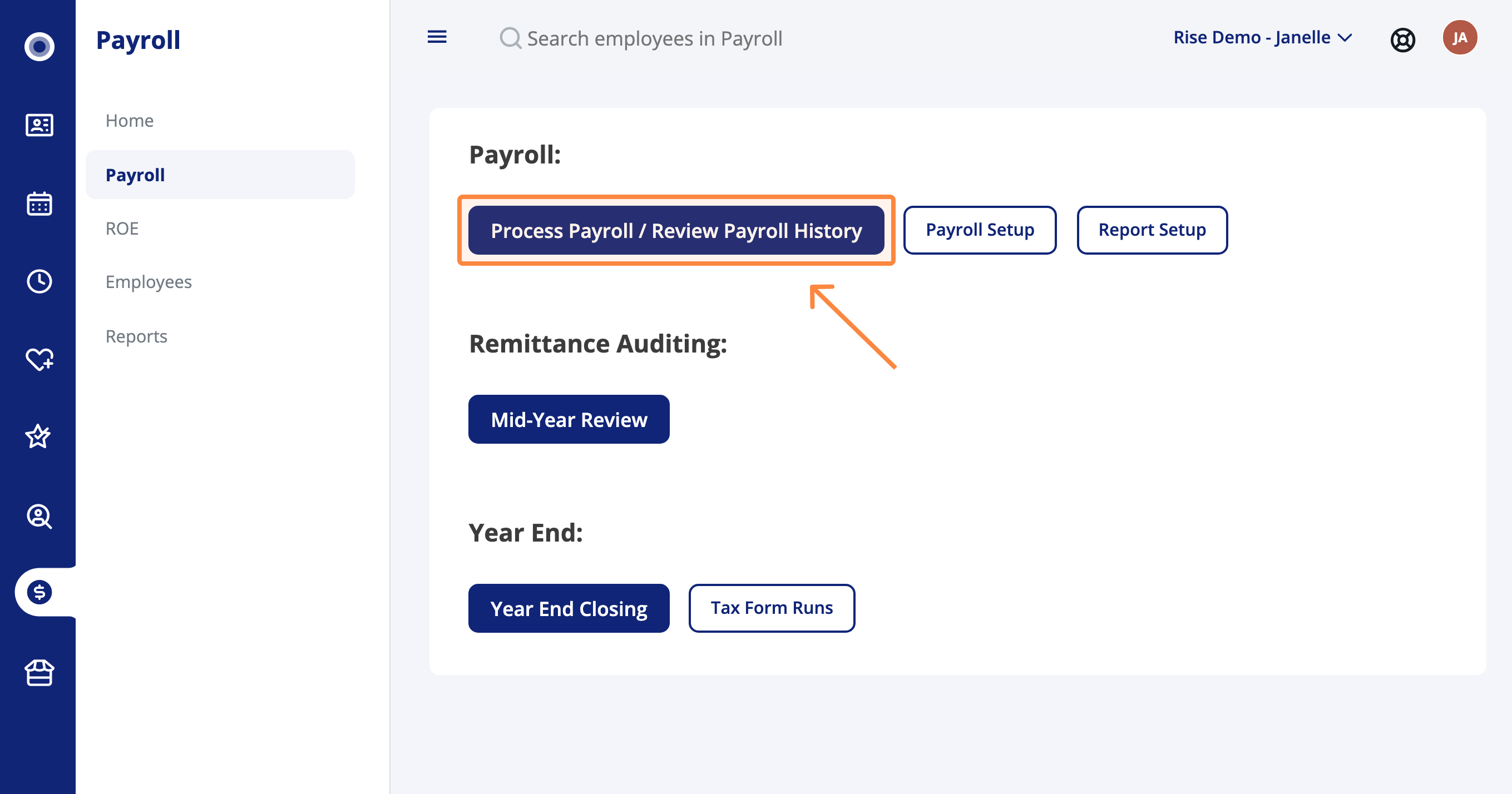 3.

Click

Create Ad-Hoc Payroll

.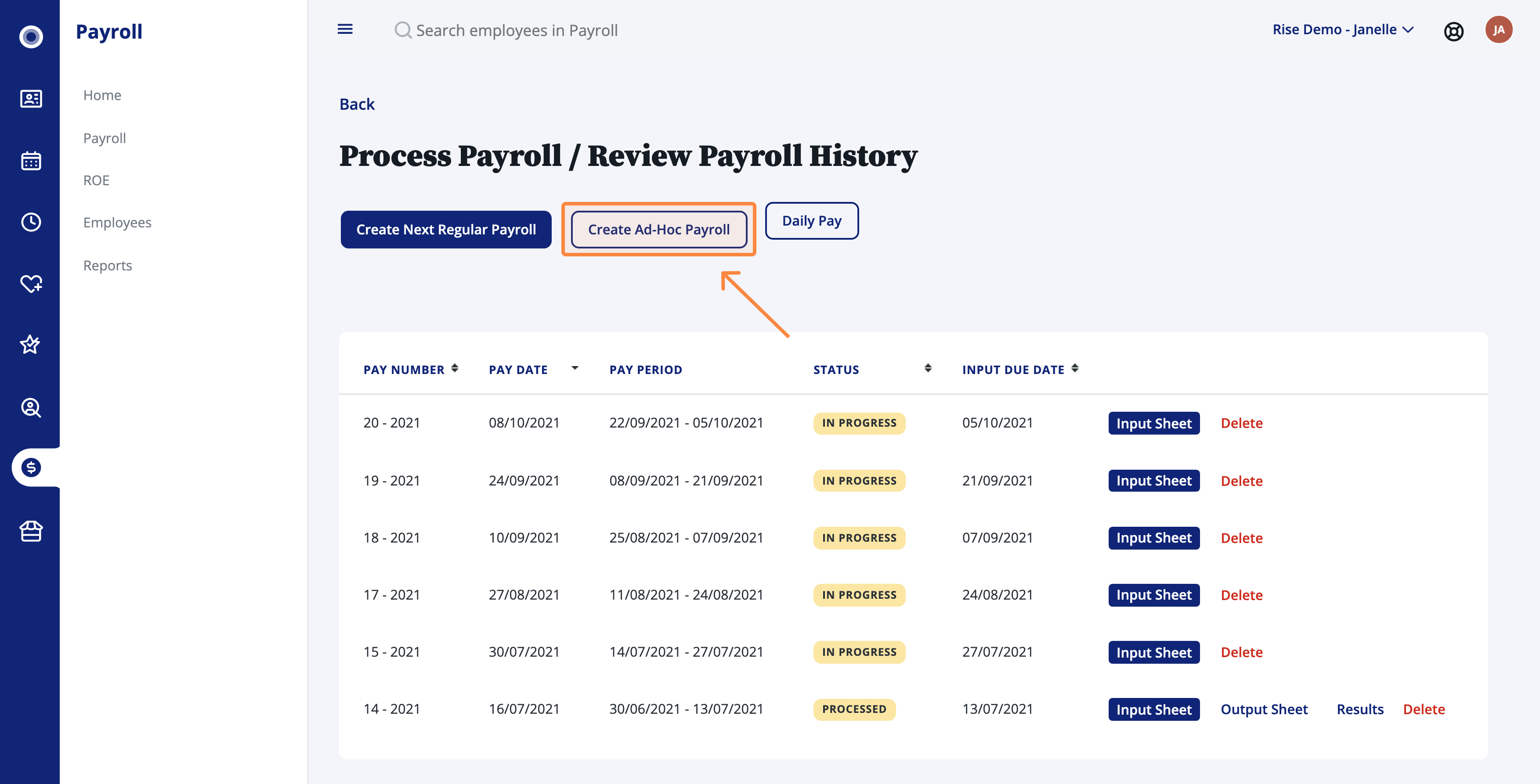 4.

Enter the required

Pay Date

,

Pay Period

, and

Reason

into the appropriate boxes.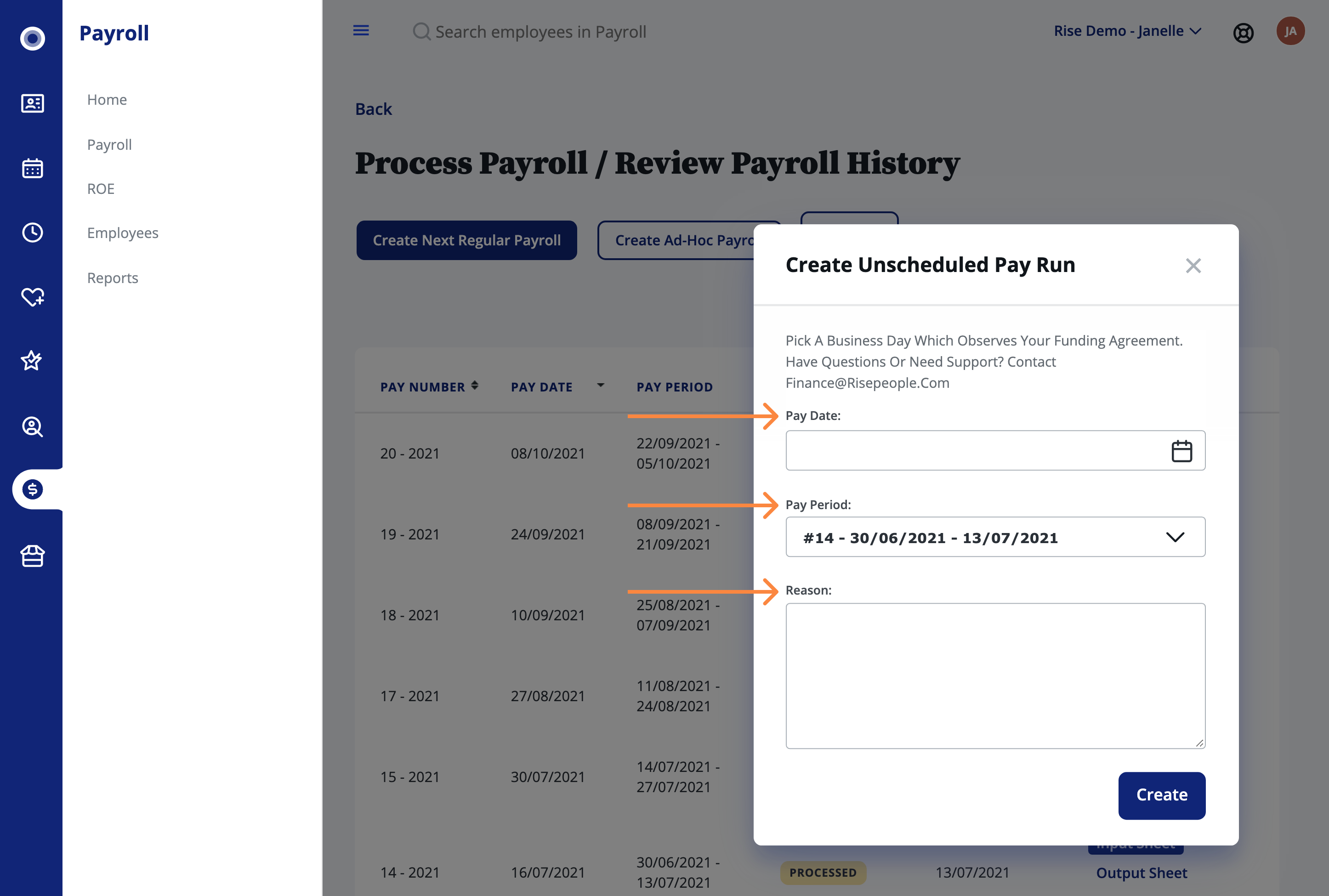 Pay Date

:

Enter the date the employee will be paid.




If the employee will be paid by Rise, you need to approve 3 days prior to the pay date (e.g. by Tuesday at 10am for a Friday pay date). Please contact our support team if you have any questions about this.




If you will be processing a

manual cheque

, you can enter the date you give the cheque. If this is future dated, note that you will be unable to process pay runs in the interim (as pay runs must be sequential). For more information, check out our article on

How to process a manual cheque

.

Pay Period:

Select which pay period this payment is attached to. This is important if you will be processing an ROE for this employee - it should reflect when the employee earned the payment.




Reason:

All ad-hoc payments are tracked for auditing purposes. There will be a timestamp, your user id, and this reason attached to the creation of the ad-hoc pay run.



5. Click

Create.

The system will take a moment to process and then you will be entered in the input sheet for your ad-hoc payrun.





8. Process payroll as normal.
Related Articles

How to change an ad-hoc payroll pay date

Determining an appropriate pay date When you create an ad-hoc pay run, you specify the pay date. Just like your regular payroll, Rise needs three banking days to process ad-hoc pay runs. If you approve the pay run on Monday before 10am PST the ...

How to finish (approve) a pay run

Submitting a pay run This tutorial is for the final steps of this process, you will have already done the following; Created a regular or ad-hoc pay run Entered relevant information for earnings, benefits, and deductions as required The next step is ...

How to process a manual cheque

Creating an appropriate pay run You need to attach this information to a pay run. If the payment is a one-off such as a bonus or termination pay, you will want to create an off-scheduled run. Off-schedule (or Ad-Hoc) runs allow you to add only the ...

How to view and change your pay date

Viewing pay schedule In People Management, navigate to Payroll by clicking the icon in the left-hand navigation bar. In the Payroll menu on the left-hand side, click Payroll. Click Payroll Setup in the Payroll section. ...

How to create an earning pay code

Three types of earnings There are three types of earning payroll instructions. If you wish to enter a number of hours into the input sheet and have the hours calculate at the hourly or salary rate outlined in the employee's compensation policy, you ...