How to process a manual cheque
Creating an appropriate pay run
You need to attach this information to a pay run. If the payment is a one-off such as a bonus or termination pay, you will want to create an off-scheduled run. Off-schedule (or Ad-Hoc) runs allow you to add only the employee's and payroll instructions you need. If the payment is a regular pay for the whole pay period, you will want to create a regularly scheduled run. Regular pay runs include all employees and all expected payments for the pay period. For more information, check out our articles on How to create an ad-hoc pay run and How to create a regular pay run.

Once you have a pay run created, and you have entered the input sheet, you are ready to record the manual cheque payment.
Recording a manual cheque payment
1. Enter all earnings that will be paid on this manual cheque, as well as any relevant benefits or deductions.



2. On the input sheet, click

Add Payroll Instructions.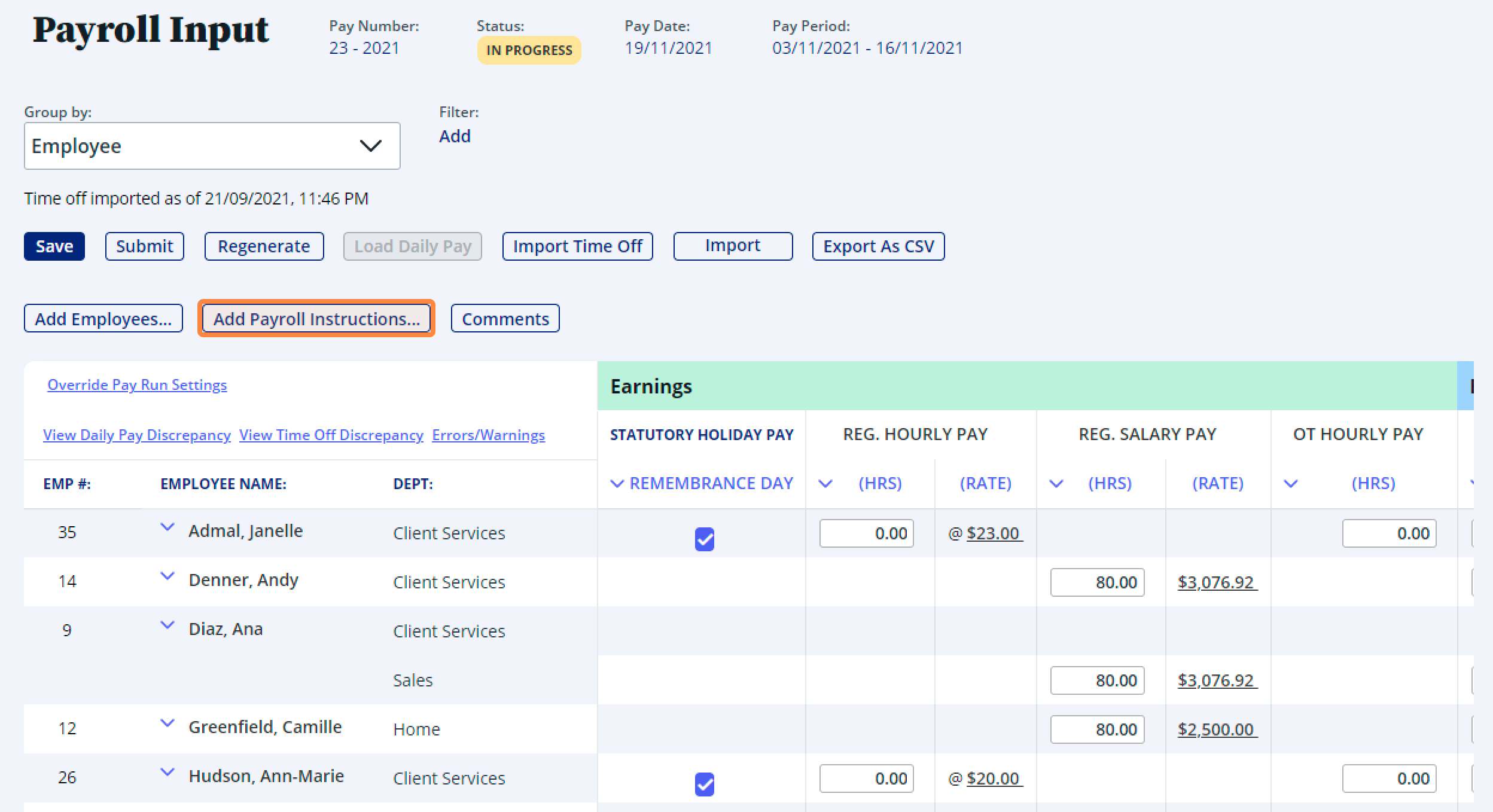 3. In the pop-up that appears, move the

Manual Cheque instruction from the left side to the right using the arrows in the middle or by double clicking on the instruction. Click

Add

to add this instruction to the input sheet.




4. The pay run will take a moment to process. Once available, click back into the input sheet. To the far right there will now be a column titled

Manual Cheque

with zero entries for all employees.
5. You need to enter the Net Pay that this employee will be receiving by cheque into this instruction. To find the Net Pay you will want to preview the employee's statement of earnings by clicking the arrow next to the employee's name and selecting

Preview Statement of Earnings.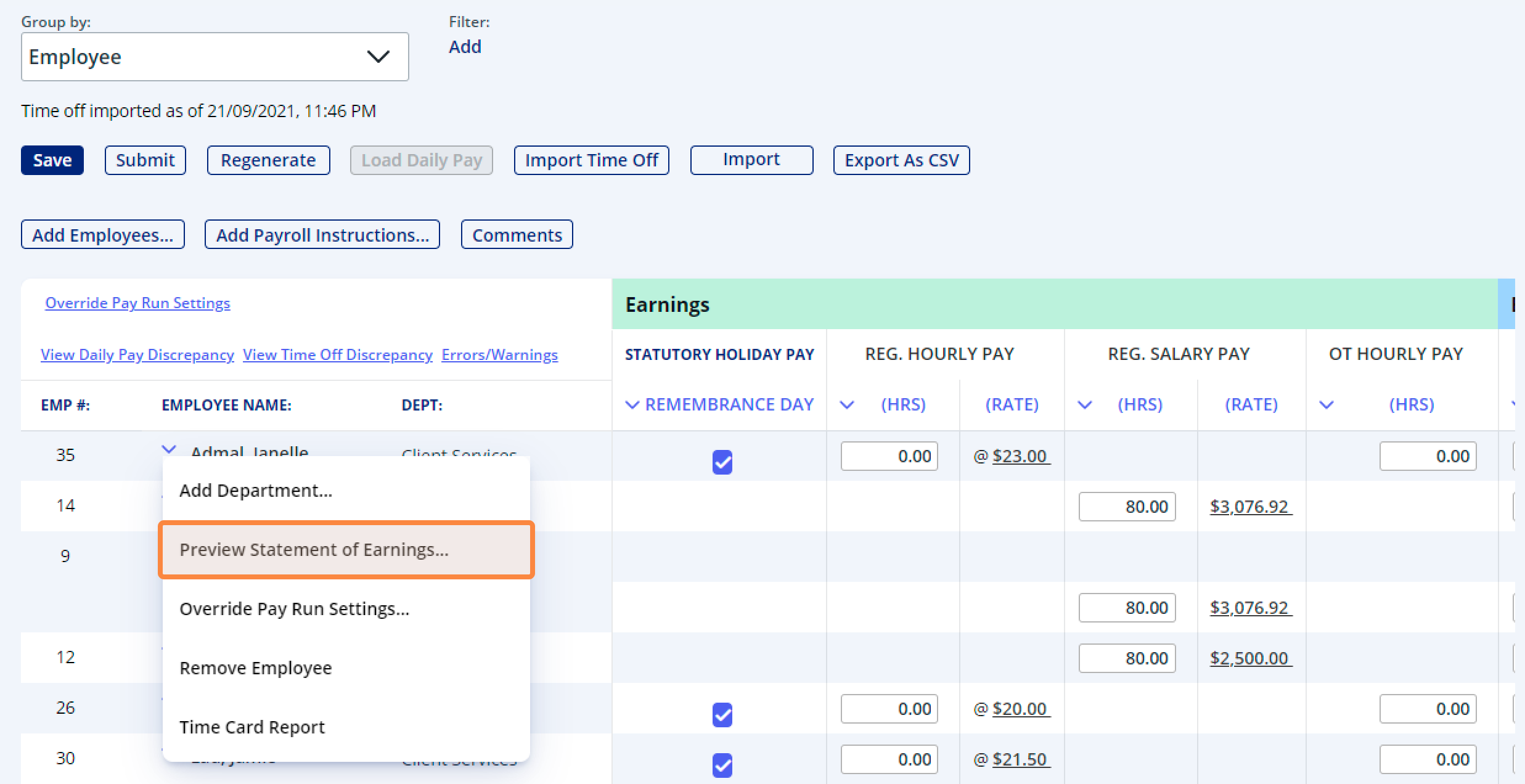 6. After entering the net amount into the Manual Cheque instruction, preview the statement of earnings again. The employee's net pay should now be $0 which means Rise will not be paying this employee.


Note that Rise does not provide further assistance for manual cheque payments. All manual cheques issued to employees must be processed manually by employers.
Related Articles

How to create an ad-hoc pay run

1. In the Payroll menu on the left-hand side, click Payroll. 2. Click Process Payroll / Review Payroll History. 3. Click Create Ad-Hoc Payroll. ...

How to finish (approve) a pay run

Submitting a pay run This tutorial is for the final steps of this process, you will have already done the following; Created a regular or ad-hoc pay run. For more information on how to create pay runs, check out our articles on How to create a ...

How to process payroll

For details on your payroll cutoff (input due date), please see your funding agreement. Always review the Invoice Report and make sure that you have enough funds in your bank on the withdrawal date as shown on your invoice report before you click ...

How to remove statutory holiday pay from the input sheet

When a statutory holiday falls within a pay period, a payroll instruction will automatically be added to the input sheet for that holiday. Statutory holiday pay can be removed for individual employees in the input sheet or removed entirely if your ...

How to create a deduction pay code

1. Open Payroll, click Payroll, and then click Payroll Setup. 2. In the Payroll Instructions tab, click on Add New Deduction. Options within the setup screen 1. The first section is titled Details. You will need to enter both the English and French ...