How to override statutory deductions
2. Find the employee you need to adjust by searching manually or using the filtering option outlined in our

How to filter or group the input sheet

article.
3. Click the arrow next to the employee's name, and select

Override Pay Run Settings.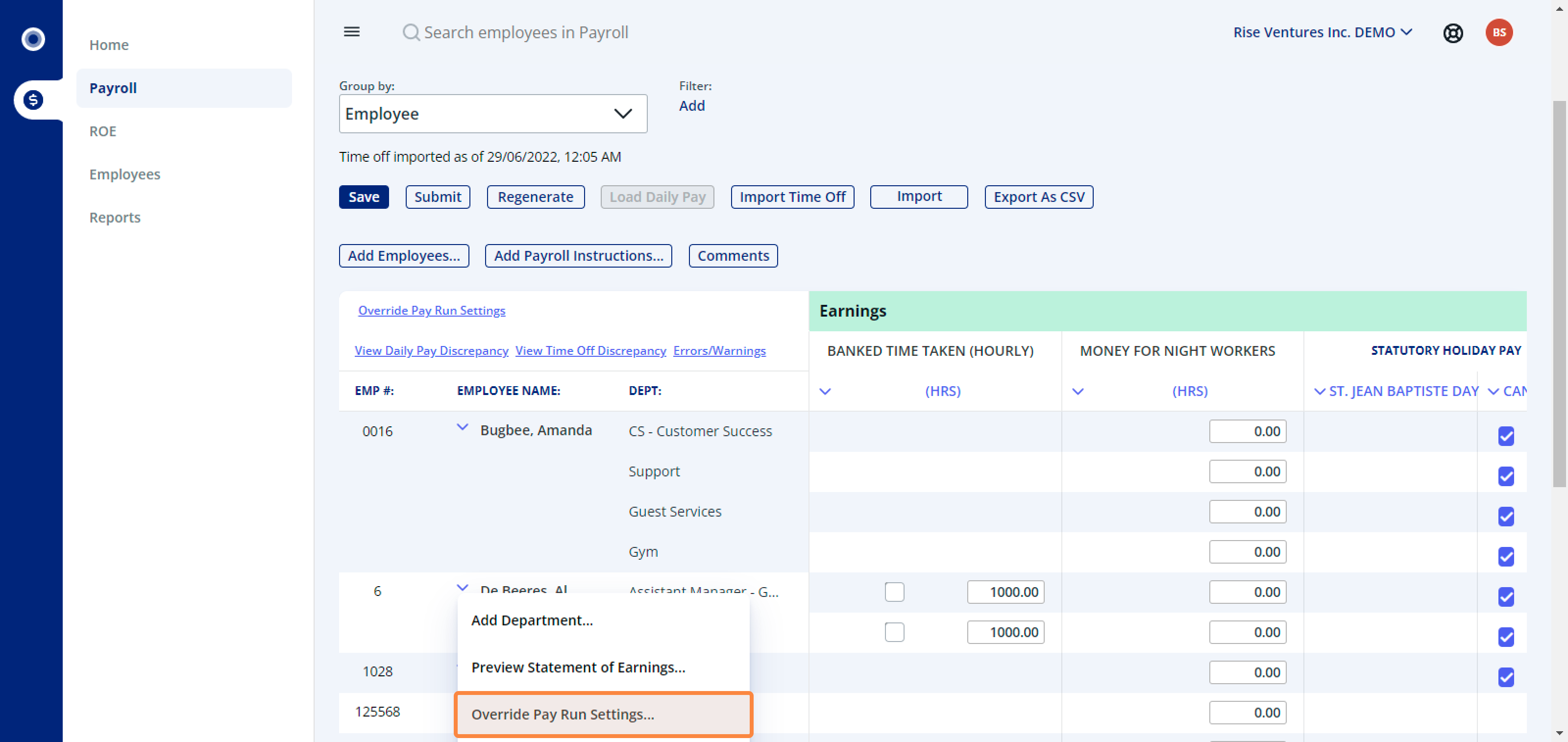 4. Select the check box next to the amount you want to adjust. This will make the entry box available for changes.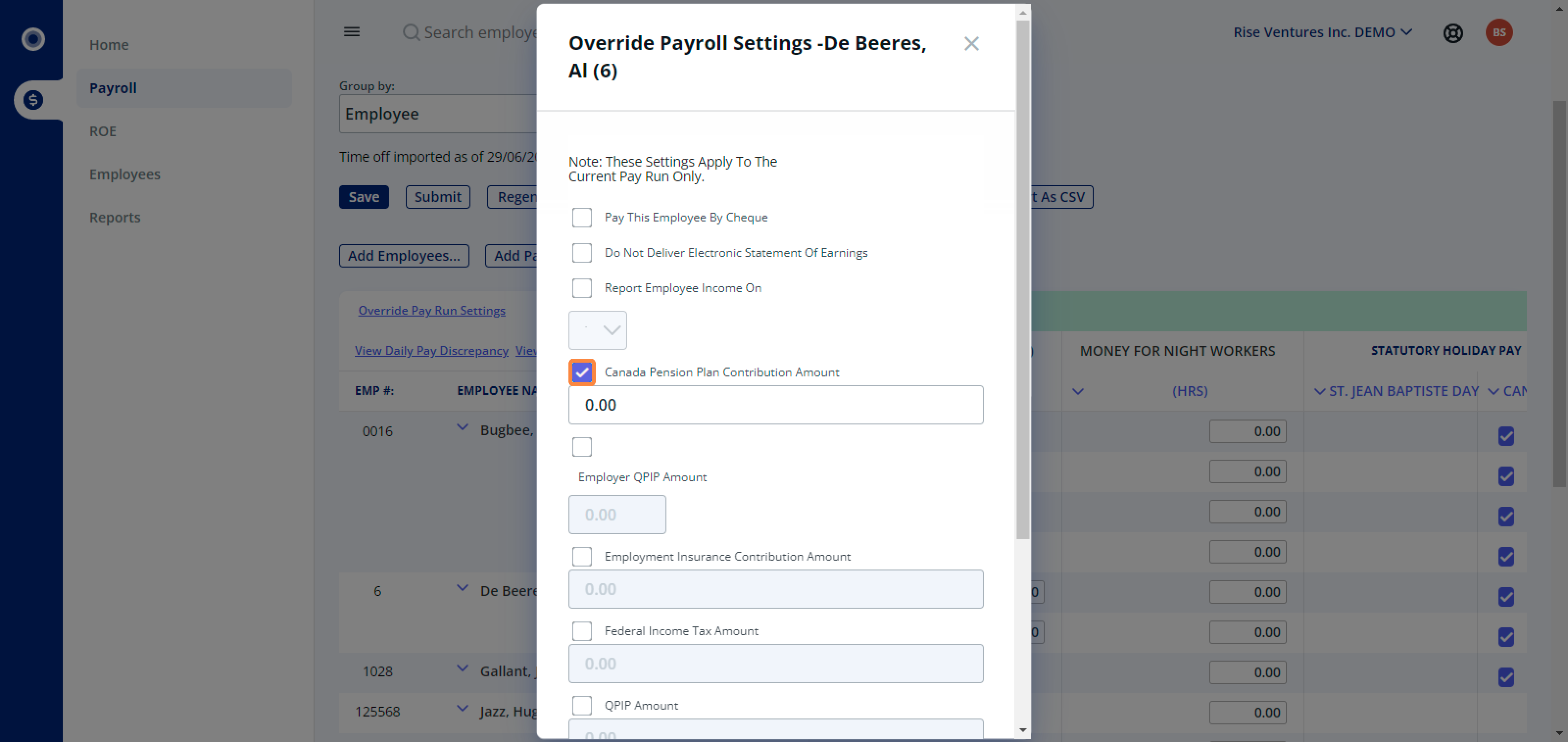 5. Enter the value you want to replace the calculated amount. Any box that is checked will over-ride (if 0.00 is left entered, 0.00 will override the calculated amount. Ensure checkboxes are untouched if you wish to only adjust one value. If you are over-riding the Tax Amount, put the combined Federal and Provincial Tax amount into the box - there will be no Provincial tax split out on the pay-stub.

6. The override values should only have 2 digits after the decimal point.



7. Click

Save

to confirm your overrides. We recommend verifying the information by previewing the employee's pay stub

—for instructions, check out our article

on

How to preview a pay-stub

.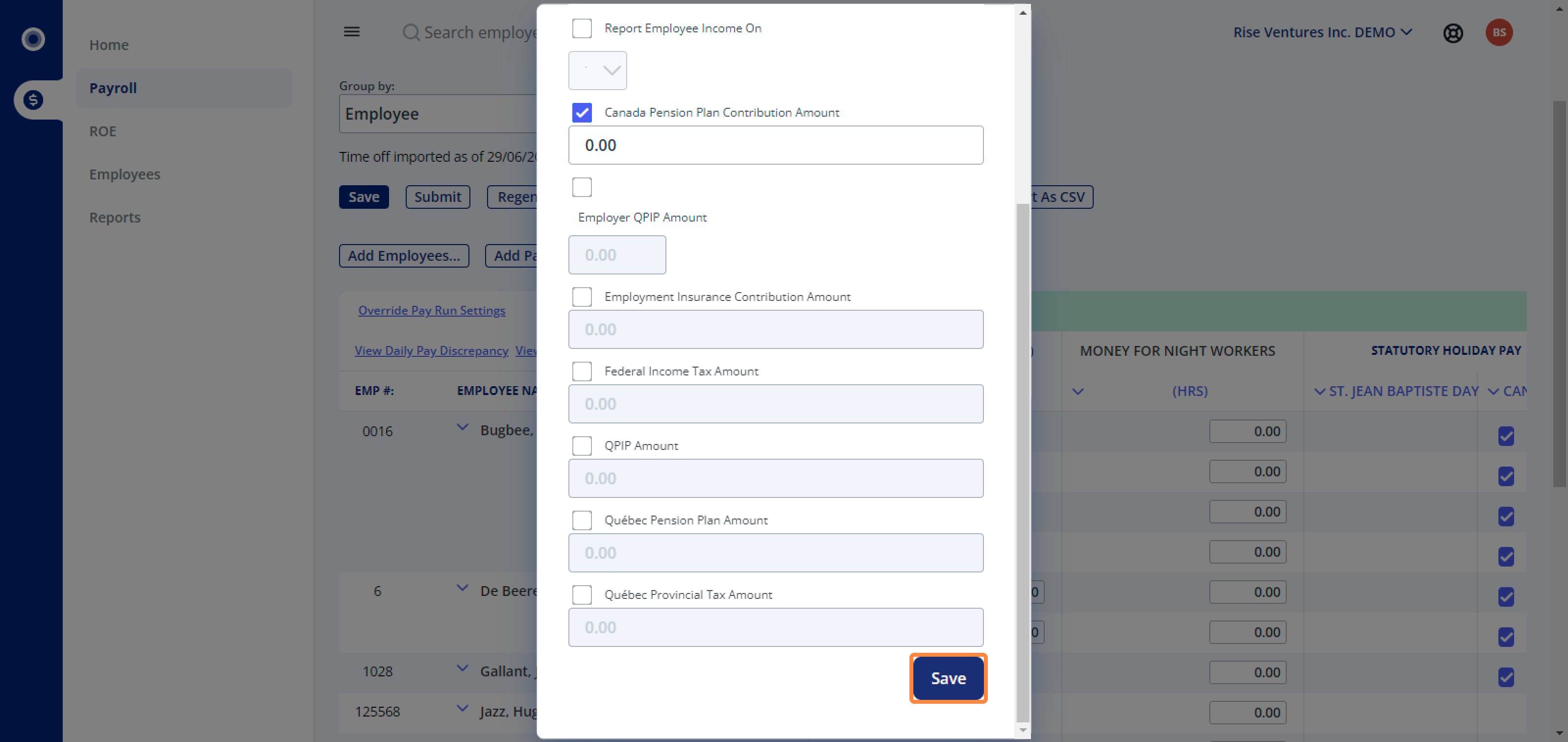 Related Articles

How to remove statutory holiday pay from the input sheet

When a statutory holiday falls within a pay period, a payroll instruction will automatically be added to the input sheet for that holiday. Statutory holiday pay can be removed for individual employees in the input sheet or removed entirely if your ...

How to finish (approve) a pay run

Submitting a pay run This tutorial is for the final steps of this process, you will have already done the following; Created a regular or ad-hoc pay run. For more information on how to create pay runs, check out our articles on How to create a ...

How to create a deduction pay code

1. Open Payroll, click Payroll, and then click Payroll Setup. 2. In the Payroll Instructions tab, click on Add New Deduction. Options within the setup screen 1. The first section is titled Details. You will need to enter both the English and French ...

How to create an ad-hoc pay run

1. In the Payroll menu on the left-hand side, click Payroll. 2. Click Process Payroll / Review Payroll History. 3. Click Create Ad-Hoc Payroll. ...

How to create an earning pay code

There are three types of earning payroll instructions. If you wish to enter a number of hours into the input sheet and have the hours calculate at the hourly or salary rate outlined in the employee's compensation policy, you will need to set up ...