How to update an employee's employment status in Payroll

These instructions only apply if your organization only uses Payroll in Rise. If your organization uses HR, follow the instructions in our
How to update an employee's employment status
article.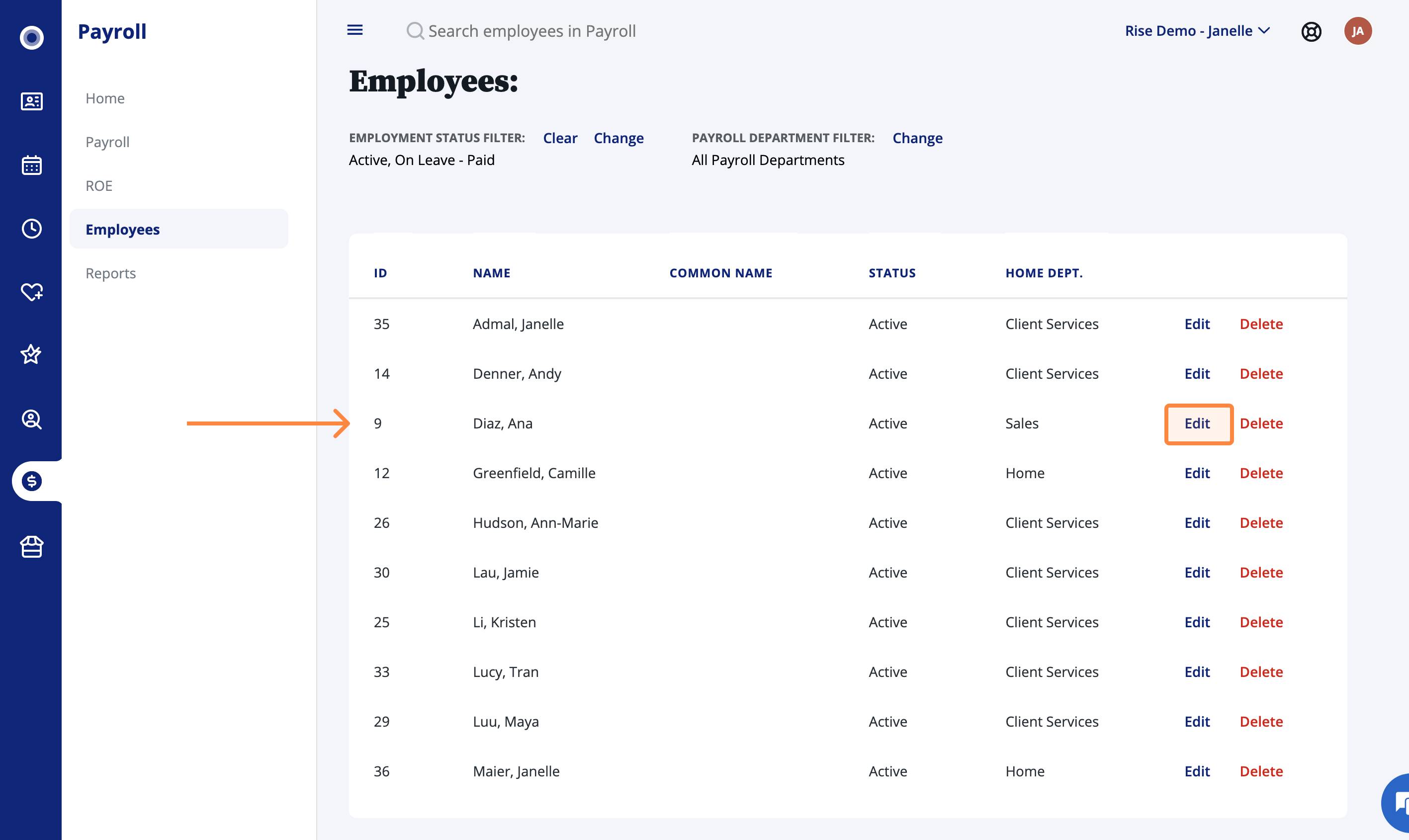 2. Click the

Compensation

tab, then click on

Change Employment Status

.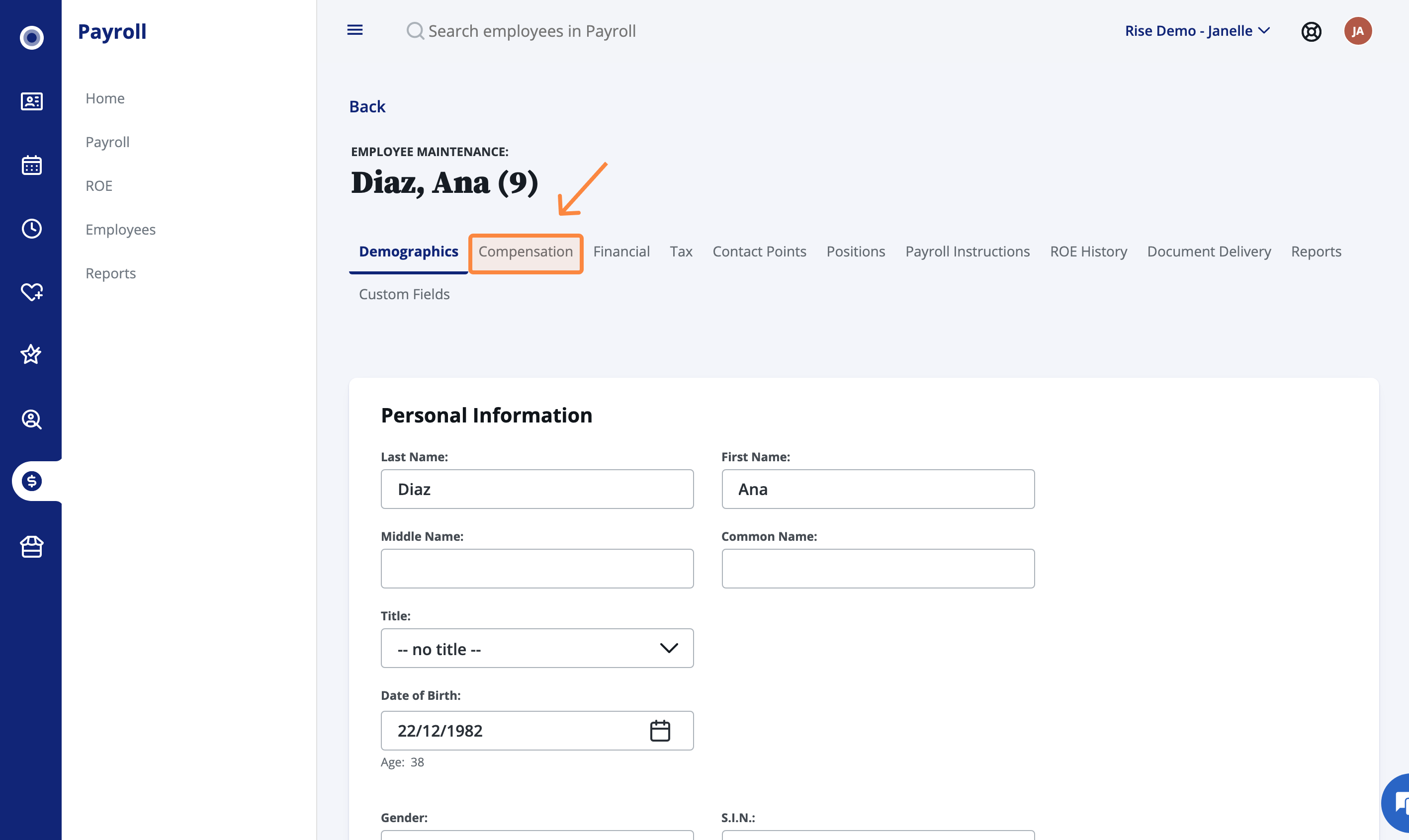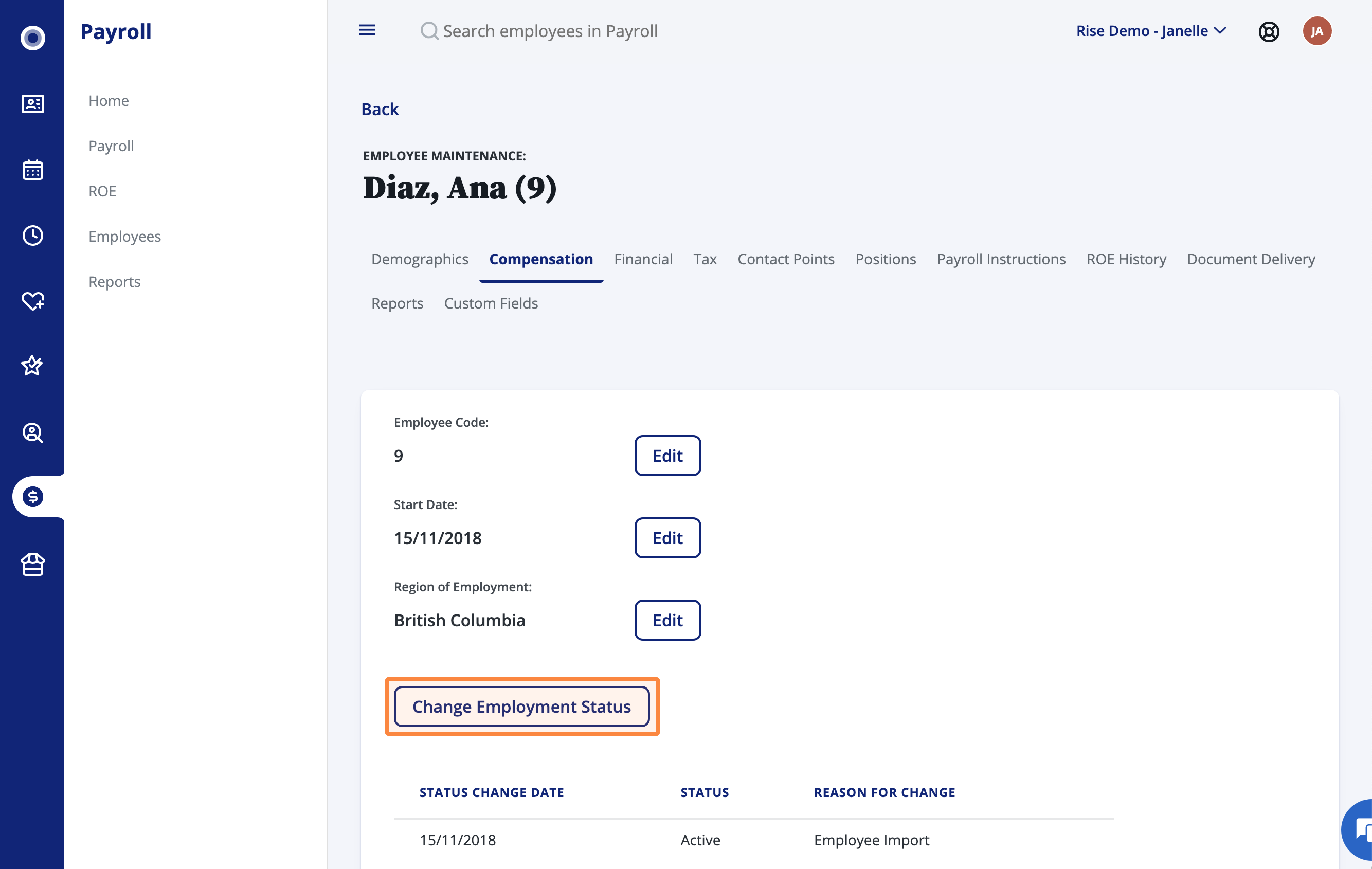 3.

In the pop up that appears, enter the following information:



New Status

:

Select from the drop down what the new status will be.



New Status Effective Date

: Keep in mind all dates are entered DD/MM/YYYY. You can future date this status change if required - no information will be sent to the employee.




Reason For Modification

: This is used for auditing purposes. Enter what the reason for this status change.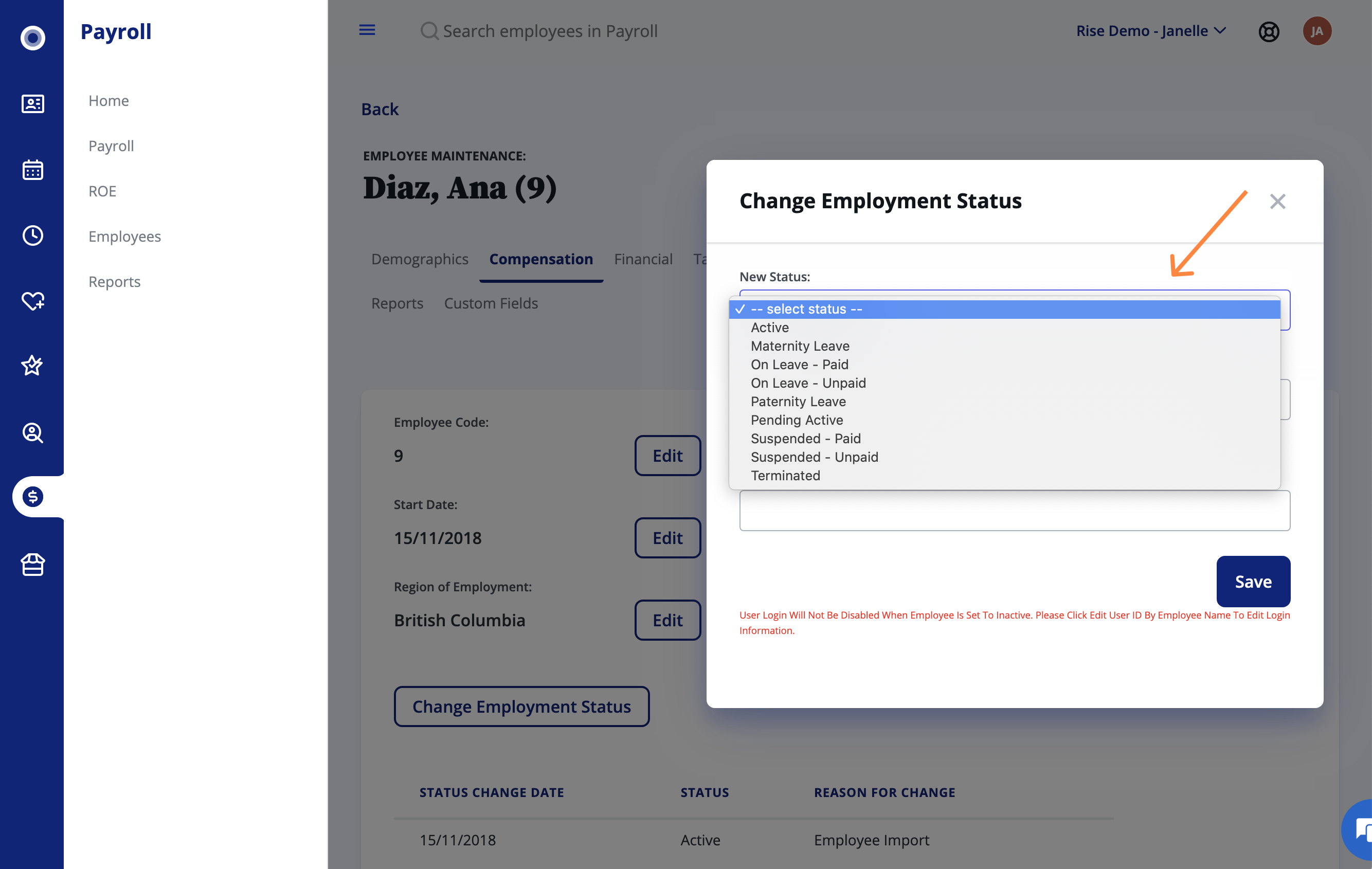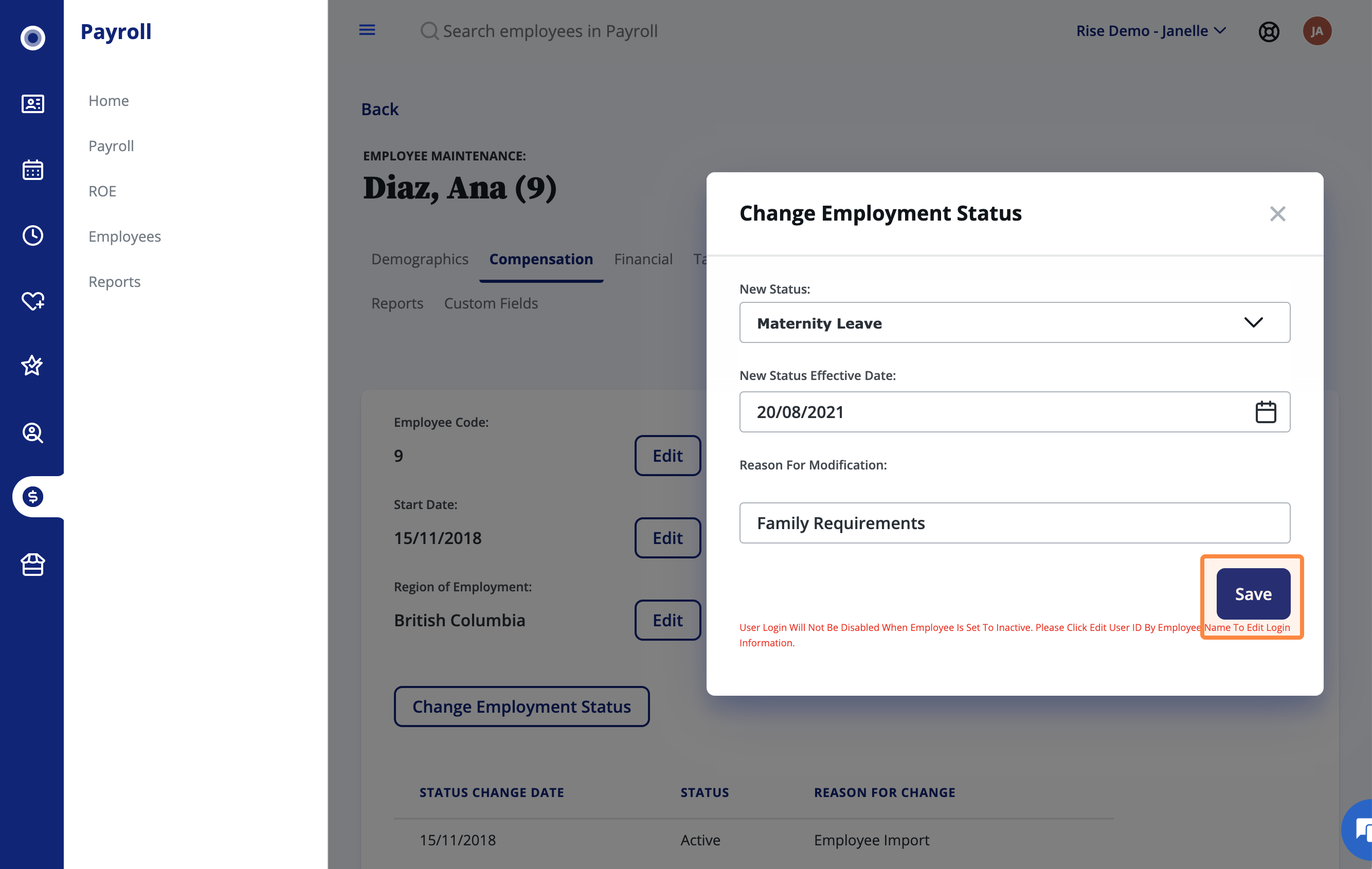 4. Click

Save

to update the employee.




The warning message you see in red will only be applicable if this employee had web punch credentials or any type of user access. Please notify the Rise support team to disable the user ID.
Related Articles

How to add an employee to Payroll

To add an employee to Payroll, you will have to follow a different set of steps depending on which Rise features your organization uses. My organization only uses Rise Payroll If your organization only uses Payroll, you can add employees directly ...

How to complete a Record of Employment

Preparations Before reviewing the ROE for accuracy, you will need to complete the following steps. 1. Terminate the employee within the system. For more details, check out our article on How to update an employee employment status. 2. Complete their ...

What is a Record of Employment (ROE)?

What is a ROE? A Record of Employment (ROE) is a form that employers complete and file to Service Canada at the end of an employee's service. This is for the employee in the event that they stop working and experience an interruption in earnings. ...

How to process payroll

For details on your payroll cutoff (input due date), please see your funding agreement. Always review the Invoice Report and make sure that you have enough funds in your bank on the withdrawal date as shown on your invoice report before you click ...

How to set up an employee in payroll

Please follow these steps in chronological order before attempting to process payroll. 1. If you created payroll profiles for your employees when you added them to the People Directory, you won't need to add them again to payroll. However, if you ...